Limousine Hire Woking | Woking Limo Hire
We cover : Woking, Surrey, Guildford, Farnborough, Aldershot, Bracknell, Slough, Ascot, Maidenhead, Uxbridge, Reading, Henley-on-Thames, Basingstoke, Sunbury, Staines, Windsor, Winkfield, Hounslow, London, Croydon, Sutton, Epsom, Crawley, Croydon, Bromley, Mimbridge, Bagshot, Warfield, Crowthorne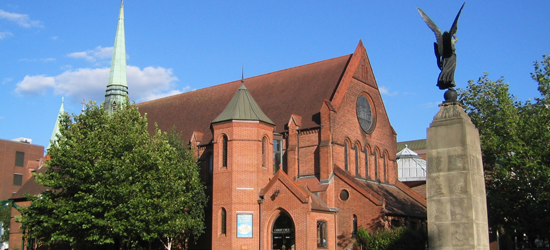 The town of Woking is a large, civil parish town in Surrey and a historic expansion of the former village of Old Woking. Woking is a very historically famous British town, renowned for many things including industry, Formula One racing card production (at the McLaren Technology Center) and also famous in fiction for being the landing area for the Martian invasion in H.G Wells' War of The Worlds But don't worry, Woking is a friendly Martian-free town in reality! The closest you'll get to an alien laser beam is at the local Laser Quest at the Big Apple (Crown Square, Woking, Surrey, GU21 6HR), which is a great choice for kids birthday parties in Woking.
At the Big Apple Laser Quest, they cater for birthday parties of all shapes and sizes, and their tailored party packages start at just £9.95 per person - you can even hire out then entire laser quest arena for you and your party, for an even more memorable experience. How about topping off the kids birthday party at the Laser Quest at the Big Apple with a truly fantastic, once-in-a-lifetime ride in a black hummer limousine? It's the most stylish and exclusive way for a kids birthday party to travel, and will make for an unforgettable birthday party experience in Woking. The 16-seater capacity of the hummer limo means that there's plenty of room for parents and all the kids inside, and the on-board entertainment features are sure to dazzle them as they cruise along the streets of Woking on their way to the party destination at the Big Apple. With mirrored ceilings, disco laser lights and a powerful sound system (which the kids are more than welcome to play their own CDs or iPods on), there's more than enough and topped off with plenty of complimentary chilled soft drinks, it's the ultimate lavish birthday treat! Once you get to the Big Apple, you're free to continue with your party and, if you'd like an all-round service, your personal Woking limousine hire chauffeur will gladly pick you and all the kids up before returning you all back home. You're supposed to feel very special on your birthday, and there's no better way to do it than with our stunning hummer limousine hire service in Woking. What's more, our prices are incredibly competitive which means you'll be able to get one of these amazing machines for your kid's birthday party for a lot less than you think! Plus, if you get a better price elsewhere, we'll try to match it to give you the cheapest limousines hire price in Woking!
One of the other aspects of the town that Woking is very well known for is its rich and varied multicultural community. As well as wonderful Pakistani and Polish communities, mainly established in post-Second World War Woking, the town is renowned for its large and tight-knit Italian community, with St Dunstan's Catholic Church in Woking even holding its Sunday masses in Italian. As a result of this deep cultural variety, Woking is home to a number of wonderfully authentic restaurants of a whole host of cuisines and dining styles. L'Aroma Ristorante Italiano (16 High Street, Woking, Surrey GU21 6BW) is a gourmet, authentic Italian restaurant discreetly hidden away in plain view in the town centre of Woking. The restaurant's Italian owners combine twenty years of culinary experience into providing an elegant and authentically Neapolitan dining experience. L'Aroma is the perfect choice of restaurant for a special birthday party meal with family and friends. Arriving at such an exclusive and authentic restaurant simply just can't be done in an everyday, run-of-the-mill car or bog-standard taxi; it simply has to be spiced up with a choice of one of our amazing limousines for our Woking limo hire services!
Perfect for those elegantly luxurious meals out, our Chrysler limousine hire cars provide that perfect mix of contemporary lavishness and classic stretched limo style, for a simply amazing and unique limousine hire experience. There's free champagne on board all of our limousines, which means you can keep your bar tab down and toast in the birthday celebrations the second you step foor inside the Chrysler limo's stunningly leather-upholstered interior. It is undoubtedly the finest way to travel to your birthday meal out in Woking, and is sure to make for a memorable for both the birthday person and all the guests involved. Call us today on 0800 002 9475 or email us at info@limos-hire.co.uk to get your free Woking limousine hire quote; whatever the occasion!