We cover : Sheffield, Yorkshire, Barnsley, Leeds, Wakefield, Chesterfield, Dronfield, Derby, Rotherham, Doncaster, Worksop, Lincoln, Mansfield, Newark, Nottingham, Buxton, Bakewell, Matlock, Glossop, Manchester, Huddersfield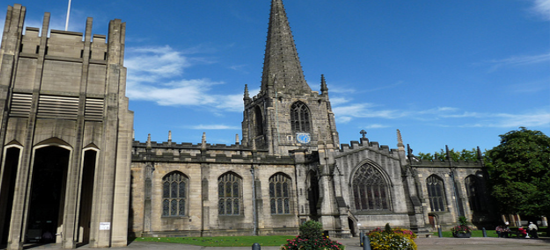 Sheffield is one of the largest city's in Yorkshire, and indeed the UK. With stunningly classic historic buildings and museums, as well the best in modern architecture, attractions and shopping, it is the perfect mix of classic and modern meaning there's something for everyone. And with two universities (Sheffield University and Sheffield Hallam) it is a bustling centre of education, with a great student population helping to drive the modern feel of this iconic City. And here at Limo Hire we like to think we're a part of that, and epitomise the classic and modern mix that the city has going on. Our fleet of Sheffield limousine hire cars are fantastically varied, much like Sheffield's cultural offerings. If you want modern, then you should definitely check out our Chrysler limousine hire cars or (for a more comfortably exclusive ride in a five-seater standard car setup) the illustrious Rolls Royce Phantom; both of which we have to offer you today at some amazing limousine hire prices. Or if classic is your thing then you should consider an iconic Lincoln limousine or our even more classic range of vintage cars, which include the Rolls Royce Silver Shadow and a stunning array of vintage Bentleys and Daimlers.
One of the big attractive features of the city of Sheffield is that it is steeped in history, spanning back hundreds of years to the Middle Ages of Medieval Britain. Sheffield is home to five Grade-I listed buildings in all, including the jaw-dropping Sheffield Cathedral. The original building dates as far back as the 12th century, but with many rennovations and additions over its many hundred-year lifespan it has become a great tapestry of historic and modern architecture, most recently including the Latern Tower - a stunning stained-glass installation designed both for its beauty and its ability to pull more light into the cathedral. This amazing piece of classic parish church history is the ultimate dream ceremony venue for a wedding day in Sheffield. You can imagine all your friends, family and loved ones all gathered together under the stunning architecture within, and the perfect place to celebrate your union. Why not make such a traditionally wonderful day even more amazing with our Sheffield wedding limo hire services? Our Lincoln limousine hire cars and Chrysler limos are hugely popular for wedding days, especially those in a more traditional setting such as Sheffield Cathedral, as they offer a luxuriously modern twist off a clasically iconic limousine design, creating the same perfect mix as the city of Sheffield itself. Your personal Sheffield limo hire chauffeur will ensure you arrive to the church in style and on time, in your amazing custom-decorated luxury limousine - and if you want bows and ribbons to match the colour theme of your wedding then no problem; our custom Sheffield wedding limousine hire service is designed specifically with all these small details in mind! And what's more, our cheap Sheffield wedding limo hire prices mean that you won't have to break the bank on this most important of days, leaving you with more money to spend on the rest of your day, or putting towards an amazing honeymoon abroad!
But if it's not weddings that you're after, then don't dispair - Sheffield still has much more to offer. Thanks to its huge, bustling student population of the city's two prestigious universities, the night life in Sheffield is simply second to none. With some of the biggest choice in bars, night clubs and classic pubs on offer, there's everything you could possibly need for an amazing night out in Sheffield, whatever your tastes might be. Why not hire a 16 seater black hummer limo for you and a large group of friends to travel in style to a night clubs of your chosing on your night out in Sheffield. With luxury leather seating for up to 16 people, there's plenty of room for everyone to share in this ultimate limo hire experience. Topped off with free champagne and a powerful sound system with disco laser light setup, you can get your night of partying started the second you step foot inside this luxurious ride. After you've enjoy an hour cruise around the streets of Sheffield, your personal chauffeur will gladly drop you right at the door of Embrace Nightclub (1 Burgess Street, Sheffield, South Yorkshire S1 2HF) for a night filled with great value drinks at the bar, and several rooms of different genres of music to suit everyone's tastes!