We cover : Nuneaton, West Midlands, Hinckley, Bedworth, Atherstone, Coventry, Rugby, Lutterworth, Leicester, Tamworth, Sutton Coldfield, Kingsbury, Coleshill, Pinwall, Stoke Golding, Earl Shilton, Burbage, Enderby, Yelvertoft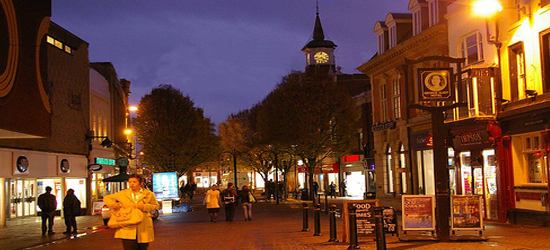 Nuneaton is a market town located in the Warwickshire region of the West Midlands, and is the largest town in the whole of the county. With Coventry only 9 miles away, and Birmingham only 20 miles away, this large market town, while boasting many of its own attractions and sights, has excellent links to some of the largest and most popular cities in the region as well; all are accessible to us, wherever you want to go, with our cheap limo hire service in Nuneaton!
Since many of the industrial areas of the town have moved away, they have paved the way for great shopping and entertainment areas in Nuneaton. The multi-million pound Ropewalk Shopping Centre (Chapel Street Town Centre CV11 5TZ) is the largest of all the shopping centres in Nuneaton, and is undoubtedly one of the most stylish and modern looking centres in the area. Offering a stunning area of fashion and clohtes outlets, the Ropewalk shopping centre also has the biggest and best stores offering electronics, entertainment, the arts, sports and leisure, and health and beauty outlets. Everything you could need for an excellent day out shopping in Nuneaton is on offer here. The centre also boasts some great cafes, restaurants and fast food outlets so there's not far to go if you want to grab a quick coffee and something to eat, or want to sit down and have a big meal to keep you going around all those shops! Why not go to the Ropewalk shopping centre with a big group of friends in style, with our Nuneaton 16 seater hummer limo hire service? There's plenty of room on board for everyone inside officially the largest limousine in the UK, and there's even free champagne on board as well - what more luxury and pampering could you possibly want?! How about a full hour cruise round with disco lights, powerful sound system and a professional, personal chauffeur for the full trip. And don't worry, our cheap limo hire prices are so competitive that you'll have plenty of money to spend on your shopping spree!
Or how about a great day out for the whole family? You could get yourself one of our amazing eight-seater stretched Lincoln limousines for a luxury cruise to the nearby Twycross Zoo. The 80-acre Twycross Zoo is a very famous and prestigious zoo in the UK, as it is home to over 1000 different kinds of animal, and has the largest collection of monkeys and apes in the whole world! It's an amazing day out with adults, kids and the whole family alike, with plenty of animals and activites both indoors and outdoors; whatever the weather, or time of year, you're sure to have a great time! And why not round off this great time with a return journey to the zoo in one of our stunning luxury limousines? Whether you need a large hummer limo for a big party, such as a birthday party in Nuneaton, or a smaller eight-seater Lincoln limo for a family, or even a prestigious Rolls Royce Phantom or luxury Bentley Arnage for a much smaller group of up to four people, we've got it all here for you with our limousine hire service in Nuneaton! With you personal chauffeur taking care of everything, including pick-ups and drop-offs, all you have to do is sit back, relax and enjoy all these exotic animals.