Limo Hire Manchester | Manchester Limo Hire
We cover : Manchester, Greater Manchester, Salford, Middleton, Oldham, Stockport, Cheadle, Bury, Hyde, Rochdale, Bolton, Ramsbottom, Warringotn, Macclesfield, Marple, Leigh, Radcliffe, Heywood, Huddersfield, St Helens, Blackburn, Wigan.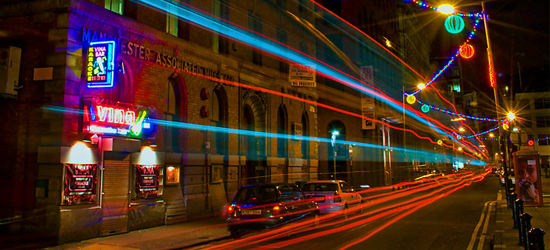 Manchester is a very large city, situated in the centre of the North West of England, and is one of the largest city's in the country with a population of nearly half a million (2.2 million in the wider Manchester are). It is one of the most key and iconic cities in Britain, renowned for its culture, music, scientific contributions, media output and world-famous sport teams. It was in Manchester where scientists first split the atom and computer programmers from Manchester developed the first stored-program computer. Other world-first's from this amazing city also include Manchester Railway Station being the site of the world's very first train station! Of course, it goes without saying what world renowned sports teams that Manchester is home to - sharing the same home town as well as a friendly championship rivalry, Manchester boasts both Manchester United and Manchester City as their two excellent home teams. Why not take a trip to Old Trafford or the City of Manchester Stadium to catch either one of these simply world-class teams playing at their home grounds; you can experience the lavish life of a multi-millionaire footballer by travelling to the stadium with our amazing cheap Manchester limo hire services. Whether you need an eight seater Lincoln limo or Chrysler limousine for a small group of you to travel to the match, or a much larger 16-seater hummer limo for a big group of friends to all travel together in luxury, we here at Limo Hire have all the best options for stretched limousine hire in Manchester to make it unforgettable. Imagine how amazing your day would have been if you had travelled in a stretched limo in Manchester to see Manchester City end their 44-year championship drought and win the Premier League? Don't miss out on an opportunity like that again - call Limo Hire now to arrange your limousine hire package in Manchester at the best rates around.
Being such a large city, Manchester is no stranger to offering variety at the highest-level of quality around. And its array of restaurants is certainly no exception; from unique Michelin-star restaurants, to quaint authentic dining, and cosy and familiar chain restaurants, Manchester really does have all the choice you could need for a great meal out with friends whether you're celebrating a special occasion or just catching up. One of the most popular restaurants in the whole of the city, as celebrated by Visit Manchester, is The Grill on the Alley, 5 Ridgefield Manchester, M2 6EG . The Grill offers truly amazing seafood and grilled cuisine; everything from classic fish & chips and surf'n'turf to grilled lobster and suculent Kobe beef cuts. It is the perfect restaurant in Manchester to celebrate a special occasion such as a birthday, and you're sure to have a luxurious and unforgettable experience while you are there and tucking into your gourmet dishes. So don't let your travel to the restaurant be any different; ensure that it too is unforgettable and lavish, with our Manchester limousine hire services! We can offer you a stunning range of limousines for hire in Manchester that are perfect for being responsible for a stylish arrival at a restaurant such as this. Why not opt for a Chrysler limousine hire in Manchester package? You get to be chauffeured by a professional and fully-qualified driver in this contemporary-styled eight-seater stretched limo, who will ensure a comfortable and lavish journey on your way to The Grill on the Alley, with complimentary champagne on board to toast in your special meal out. After your meal is done, your personal chauffeur can even pick you up to drop you back home so that your evening is rounded off perfectly with our luxury limosuine hire services in Manchester. You can call our freephone number or email us at info@limos-hire.co.uk to get your free quote.
One of Manchester's key attractions is the annual Manchester Jazz Festival. In 2012 the festival will return to Manchester for its 17th consecutive year, boasting the Best of British and foreign jazz talent in a staggering nine day long festival in Manchester city centre. Festival goers can expect round-the clock free performances, both indoors and outdoors, at this scorching summer music festival, showcasing jazz talent like no other jazz festival in the world. Performances this year will be held at The Festival Pavilion in Albert Square, the Royal Northern College of Music, Band on the Wall and Matt & Phred's Jazz Club, 64 Tib Street, Manchester, M4 1LW . Why not check out all of this showcasing of jazz talent with our stunning limousine hire services? With performances all over the city, you're going to want the best and most memorable ways to get there, and the only truly stylish and comfortable way to do it is in the back of one of our amazing stretched limos, hummer limos or luxury Rolls Royce Phantom hire cars. However many of you and your friends are attending the festival, and whichever style of transport you want to be made to feel like a world-famous jazz star amongst the likes of Miles Davis, our Manchester limo hire services are on hand to provide you with the ultimate mode of transport for Manchester city centre. Our prices are also the most competitive around, meaning you can get yourselves an eight seater Chrysler limousine in Manchester for the cheapest price possible. If you do find a better quote then always call us back - we're very competitive, and will always do our best to offer you the lowest possible price and the highest level of limousine hire service in Manchester ever.