We cover : Doncaster, Sheffield, Wakefield, Knottingley, Thorne, Harworth, Mexborough, Rawmarsh, Barnsley, Gainsborough, Barlborough, Chesterfield, Mansfield, Bawtry, Maltby, New Edlington, Chapeltown, Hoyland, Bramley, Thurcroft, North Anston, Retford, Leeds, Huddersfield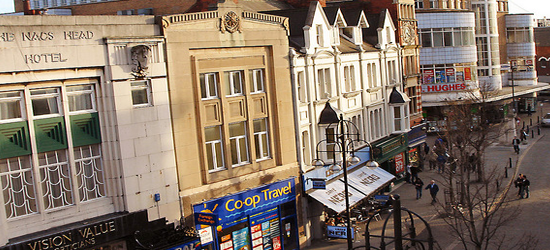 Lying in the South of Yorkshire is the large town of Doncaster - one of the largest education, shopping and international transport centres in the region, and in the UK! With excellent links all over the country, and indeed the world thanks to the Doncaster International Airport, this busy town has a great deal to offer visitors and residents alike. Whether you're on a wild night out in 'Donny' town centre, planning a wedding at one of Doncaster's many gorgeous churches, or just hitting the massive shopping centre's that this Yorkshire town has to offer; whatever you may be planning to do in Doncaster, we've got the perfect limousines and Doncaster limo hire services to suit any occasion and event - from the organised chaos of kids birthday parties to the beautiful elegance of a Doncaster wedding day. We've got it all here and more at Limo Hire!
One of the most iconic parts of the Doncaster skyline is the Church of St. George, often known as Doncaster Minster or St. Goerge's Minster. A fairly recent build, this 19th century 'great minster' is a replacement of a much old 12th century Normal place of worship that unfortunately burnt down in 1853. After just five years of construction, St. George's Minster was open and has been a staple part of Doncaster ever since. It's a hugely popular wedding venue, and when you step foot inside you won't be wondering why! It's high, iconic ceilings and simply beautiful gothic Victorian design make it the perfect place for a traditionally classic wedding in Doncaster - and what better to roll up to a traditional wedding than in one of Britain's most traditional cars; a Rolls Royce! The Rolls Royce Phantom hire car is becoming a really popular choice for wedding car hire in Doncaster these days, blending the perfect mix of classic Rolls Royce finesse, and modern style courtesy of BMW involvement in the design and engine. You're sure to turn heads as you make your luxurious entrance at your wedding in this million-dollar luxury vehicle. But thanks to our cheap wedding car hire prices in Doncaster, you won't have to be a millionaire to get this car for your wedding day! From the ceremony venue, your personal limousine chauffeur will even complete the day's transport for you and take you in style as a newly married couple to your reception venue. Why not try the Owston Hall Hotel (Owston, South Yorkshire DN6 9JF) - a three star hotel, restaurant and luxury spa resort. Simply ideal for a perfect and memorable wedding reception, and fantastically in keeping with the style of the Rolls Royce Phantom.
If you're not thinking about weddings, and a wild night out is more what you're thinking while you're in Doncaster, then this Yorkshire town really does not disappoint on the nightlife! With great bars such as the Coco Ice Cocktail Bar and the Walkabout Australian bar and pub, to the wild excitement of night clubs such as The Priory club (1A Bradford Row, Town Centre, Doncaster DN1 3NF) and Flares and Reflext (5 Hall Gate, Town Centre, Doncaster DN1 3LU) for the nostalgic, retro party animal inside you! All of the places and more are accessible with our great limousine hire services for nights out in Doncaster. If a large group of you are heading into 'Donny' town centre for some drinks in a bar, or a long night of clubbing, then why not try the black hummer limo hire services from our Limo hire in Doncaster coverage? With seating for up to 16 people, free champagne, a powerful sound system and a disco laser light setup, you'll be able to get the party started as soon as you step foot inside the black hummer limo - no more waiting to get into nightclubs before things get kicked off! Call our freephone limousine hire in Doncaster hotline now for your totally free quote on a limo hire package to suit you!