We cover : Dewsbury, Yorkshire, Wakefield, Rothwell, Huddersfield, Bradford, Pudsey, Leeds, Barnsley, Crigglestone, Walton, Cudworth, Darfield, Castleford, Pontefract, Ossett, Scholey Hill, Normanton, Sharlston, Fitzwilliam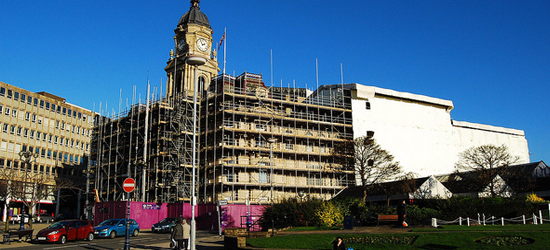 Dewsbury (meaning a fortified place by a stream in Old English) is a historic minster town in the heart of Yorkshire; a fantastic town for a walk through history right from the middle ages through to the present day. In recent years what had become a run down ex-industrial town has been regenerated, giving a much more clean and modern feel to the town but while still retaining its character and historic past. Our limousine hire services in Dewsbury can help bring the modern aspects to life, chauffeuring you around in style, however big your group and whatever your occasion in Dewsbury town centre we've got the right stretched limousine for you!
The range of hotels on offer for you to rest for the night in Dewbury doesn't disappoint in the slightest. There's a fantastic range of chain hotels, cosy home-run B&Bs and luxurious local hotels for you to choose from - whatever kind of stay in Dewsbury you want, you've got it, and our Dewsbury limo hire services can ensure you arrive at your hotel in style, and even get helped with your bags by your personal chauffeur! The Crackenedge Hotel (Dewsbury, West Yorkshire, WF13 1RW) is a lovely little cosy hotel and bar located at the heart of the town's pub district. Offering great food, a fantastic selection of beers, wines and ales, as well as first-rate traditionally British acommodation, you're sure to have a wonderful stay. Why not get classic with your transport as well, and roll up to the hotel in an eight-seater Lincoln limousine hire car. Your chauffeur will take you right to the door in the highest level of style, and even help you with your bags inside, so you can be really pampered and truly relax during your stay in Dewsbury.
But if you fancy a change of pace during your stay in Dewsbury, and don't want to eat in at your hotel, then check out Zucchini's Restaurante (Bradford Rd, Batley, UK WF17 6) - a local award winning gourmet restaurant, available for lunches, evening meals and private functions alike. With an innovative open-plan kitchen experience, and the addition of Al-fresco dining, Zucchini's gives a uniquely modern dining experience in a traditionally relaxed and welcoming atmosphere. Why not add some variety to a meal out with friends or family and have on of our Chrysler limousine hire cars take you there in style? You can keep down your bar tab with free champagne on board, and get celebrating with the on-board entertainment system and luxurious mirrored ceilings and laser lights. you're sure to make your meal out even more special and a million times more memorable courtesy of our Dewsbury Chrysler limo hire services.
What's more, if you eat a meal at Zucchini's restaurant, you're also given FREE entry into the next-door Frontier Nightclub (Bradford Road, Batley, Yorkshire WF17 6JD) - a self-titled "venue of legends", offering theme nights, great DJs, and a fantastic "all drinks £1.50" offer on Friday and Saturday nights! It doesn't get cheaper than that, and when you add in to the mix our cheap limo hire prices in Dewsbury, you're going to have the best night out of your life, without having to break the bank. Why not try our party bus limo hire services in Dewsbury for the ultimate party experience before you hit the nightclub at Frontier? It's nicknamed "The Night Club On Wheels" for a very good reason; it's the most fully-featured and stunningly unique limousines in our entire fleet of limos here at Limo Hire. You can enjoy a full hour cruise round in the party bus limo, enjoying the powerful sound system, fully dance floor and totally FREE champagne on board (making your night out even cheaper!) before getting dropped at Frontier for your ultimate night out. You won't forget this night in a long time!