We cover : Coventry, Rugby, Birmingham, Solihull, Leamington Spa, Canley, Tile Hill, Northampton, Nuneaton, Bedworth, Kenilworth, Daventry, Lutterworth, Leicester, Warwick, Stratford-upon-Avon, Redditch, Lichfield, Sutton Coldfield, Tamworth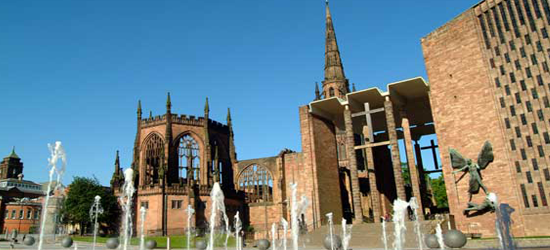 Still one of the West Midlands biggest and most iconic cities, Coventry provides a somewhat more relaxed atmosphere compared with the massive size of other major cities such as Birmingham and Wolverhampton. Twinned with 26 different towns and cities across the world, the city of Coventry is a beacon for the UK, much like our amazing UK-wide stretched limousine hire services. Known for its shopping distric, historic buildings and entertainment venues, Coventry is a fantastic place to visit, or hold your all-important special occasions in if you're local to the area - whatever your needs, we've got the right limousine hire package for you in Coventry. From weddings to proms, and nights out to shopping sprees, we can cater for literally any event you may be thinking of planing, and give you the greatest range of limousines and the best prices in the business - if you find a better price for Coventry limousine hire, then call out freephone number on 0800 002 9475 and we'll try to beat the quote with our incredibly competitive Coventry limo hire prices!
One of Coventry's most famous attractions is the iconic Coventry Cathedral; both the original ruins, and it's newer older brother. Originally built way back in the 14th Century, the first Coventry Cathedral structure was a focul point of Christian worship in the city until it was destroyed in a World War II bombing raid back in 1940. Since then, rather than rebuilding over the existing ruins, a newer Cathedral was built next to the original, so that its history may be preserved forever. Now a popular tourist attraction, the historical ruins of the original Coventry Cathedral provide the centre for an interesting day out at many of the museums and historical locations within the centre of Coventry. Both the original ruins and the new cathedral are completely free to visitors, making it an ideal location for a historical day out. With the city centre a maze to navigate, leave it up to the professionals - thanks to our local knowledge and super chauffeur services, you can guarantee that we have an amazing limousine hire package for you. Whether there's a large group and you need the 16 seater hummer limousine in Coventry, or you need something smaller like the eight-seater Lincoln stretched limousine, we've got it all and more in Coventry to make your interesting and educational day out even more exciting, memorable and relaxing!
The coventry cathedral, aside from just being a historical place of interest, is also an amazing place to get married. Imagine having a summer wedding in the historic ruins of the original cathedral, lighting the place with candles and decorated with gorgeous flowers, in a stunning open air ceremony. It's the perfect setting for your perfect day, and we've got the perfect wedding car hire and wedding limo hire packages in Coventry to make it simply amazing. Our Coventry Rolls Royce Phantom hire cars are becoming the most popular choice for weddings across the UK and the West Midlands these days, and ensure that what it lacks in size (seating five; making it smaller than a Lincoln town car or hummer limo) it makes up for in elegance, style, comfort and luxury. With free champagne on board the Rolls Royce Phantom's champagne bar, this is the perfect way to arrive at this amazing and unique wedding venue; one you're sure to remember and one we'd love to be a part of with our luxury limousine hire services in Coventry.