Limousine Hire Chester | Chester Limo Hire
We cover : Chester, Cheshire, Birkenhead, Liverpool, Warrington, Widnes, Ellesmere Port, Northwich, Bootle, Hoylake, Wrexham, Crewe, Nantwich, Whitchurch, Frodsham, Winsford, Macclesfield, Stockport, Manchester, Leigh, Bebington, Mold, Malpas, Stoke-on-Trent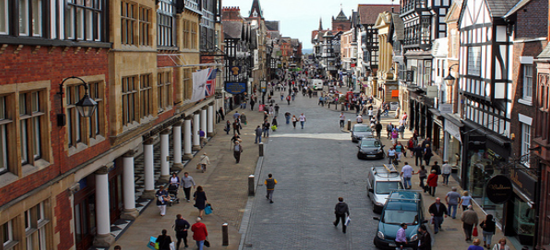 Chester is the largest city in the county of Cheshire, where it is the county town. It lies on the River Dee, very close to the Welsh border, giving it a wonderful mix of a big city, historic town and trainquil countryside village all in one city. Chester is famous primarily for being one of the few remaining walled cities in Britain, like other key cities such as Bath. Chester is renowned for being perhaps the best kept walled cities in Britain, as virtually all of the original city walls are still standing to this day (with the exception of a small 100 metre stretch) - which is an amazing feat, considering their construction began during the Roman era, nearly 2,000 years ago. Like many northern English towns and cities, it wasn't until the Industrial Revolution that Chester truly flourished. The onset of the canals and railways brought in massive amounts of expansion and ecenomic growth. It is this period that Chester is most famously known for, as many of the iconic buildings and famous architecture originates from the Victorian era, including faux-Medievel buildings and neo-gothic architecture. A prime example of the kind of building that Chester is famous for is the city's town hall - this typical Victorian build first opened in 1898 and is now a designated Grade-II listed building. But whether it is Chester's history that entices you, or its much more modern offerings, our Chester limo hire services are equally as varied - ranging from vintage cars, to classic stretched limo designs, all the way up to modern day luxury vehicles such as the Chrysler limousine and the Rolls Royce Phantom hire car.
The Falcon Inn (Lower Bridge Street, Chester, Cheshire CH1 1RS) in Chester is a rare breed of pub. It is one of very few Grade-I listed pubs in the UK, with the original building dating back as far as the 13th century! If that's not historic enough for you, then we don't know what is! The landlords of the pub even use the medieval undercroft as their beer cellar. The pub has been running for hundreds of years, and continues to do so today, offering a fantastic pub atmosphere that's perfect for a big night out, a quiet few pints with some friends, or a relaxing, well-deserved afternoon drink. With this truly historic pub venue being the perfect place for drinks out in Chester, let us bring the contrasting modern lifestyle of the city into the equation, with our limo hire in Chester services. Our fantastically modern, yet elegantly stylish, limousines include the amazing Chryser limo. This stunning eight-seater work of perfection is a stretched limo format of the standard Chrysler luxury car and, thanks to its design, it has earned itself the nickname "The Baby Bentley". But that's the only thing 'baby' about it! This enormous stretched limousine has room for up to eight people in the incredibly lavish and exclusive luxury interior, where the high-quality leather upholstery and on-board entertainment are kings. There's a state-of-the-art entertainment system, include sound system and neon lighting, as well as a drinks bar filled with complimetnary champagne to get your evening out kicked off in style! Your personal Chester limo hire chauffeur will gladly pick you up, let you enjoy the amazing features of the Chrysler limo hire car, before taking you to The Falcon Inn for your night of historically-styled pub experiences. This will be a pub trip out to remember, and could be made even more unforgettable by chosing our luxury limousine hire in Chester pacakges!
If it's dining out you're after in Chester, then this historic city does not disappoint. Traditional and modern cuisine and dining style alike, Chester really does have something for everyone, whatever your tastes and prefered style of dining. One of the most popular restaurants in the city is the Siam Thai and Teppanyaki Restaurant (32 City Road, Chester, Cheshire CH1 3AE). This very modern styled two-floor restaurant offers truly authentic Sushi, Sashimi and Teppanyaki Japanese cuisine on the ground floor, and gourmet Thai food ont he restaurant's top floor. The Japanese dining style is a wonderful experience, especially for a small group of people. You all sit round a large table in a very cosy setting, with the traditional Japanese chefs in the middle cooking your food and showing off their culinary skills. The Thai section of the restaurant offers a more traditional dining setup, while offering truly authentic gourmet Thai food. This is the perfect place in Chester for a meal out with friends, and is often referred to as the best restaurant in the city! So if you want to spice up your meal out, and choose the Siam Thai and Teppanyaki Restaurant for your ultimate restaurant, then choose our Chester limousine hire services here at Limo Hire for the ulatimate in comfort, luxury and limousine travel! We have a stunning range of limousines and luxury cars that are ideal to make a celebratory meal out truly unforgettable. The Rolls Royce Phantom hire car in Chester is an absolutely sterling vehicle for transport to a restaurant such as the Siam, offering literally the finest luxury car hire travel out of anything in our fleet. If you want that same quality, but need more room than a standard five-seater setup, then you've got the choice of some amazing eight-seater stretched limos. The Lincoln limousine is a stunning vehicle, offering luxury travel in a much more traditionally-styled limo format, whereas the Chrysler limo offers the same seating options, similar features, but in a much more modern design (comparable to that of modern-day luxury Bentley hire cars). Whatever your styles and choices, we're able to guarantee a professional and high-quality service each and every time. And with our cheap limo hire prices in Chester, you can get the best limo hire rates in the business; you don't have to break the bank to get the finest limousine experience imaginable!