We cover :Bath, Somerset, Bristol, Chippenham, Trowbridge, Weston-super-Mare, Clevedon, Portishead, Glastonbury, Swindon, Keynsham, Saltford, Bannerdown, Radstock, Frome, Bradford-on-Avon, Devizes, Bathford, Marshfield, Corsham, Farmborough, Corston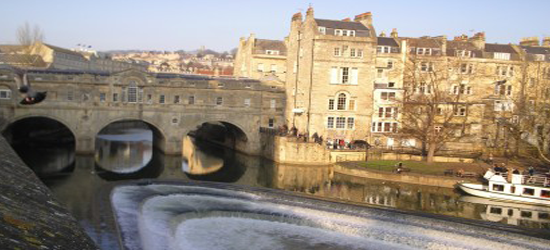 Bath is an ancient, very historical city, which is renowned for its deep Roman-rooted past. Principally founded back in AD 43 as a spa town by the Romans, Bath was designed not as a garrison town but as a place of relaxation for Roman citizens and soldiers alike and was chosen for its infamous hot springs and mineral waters; something which still exist today. The Bath Spa and Roman Bath House were key aspects of Bath's history, and continue to be major tourist attractions today. What's more, you can even still bathe in the Roman Baths and experience the relaxation of the hot spring waters!
The Roman Baths in Bath consist of four main areas - there's the Sacred Spring, the Roman Temple, the Bath House itself and what is now a museum of archeological finds. The Baths bring in over a million visitors every year, and with the fascinating history, stunning architectural features and unique experiences on offer, it's easy to see why! As well as taking a historic tour around the bath house, experiencing the original Bath House features as well as the redevelopments over hundreds of years, you can even experience the Spa's waters for yourself in a number of relaxing and revitalising treatments. Today, Bath boasts the original spa as well as a seperate, more modern spa and leisure centre, which will allow you to take a trip through Bath Spa history; from the Roman's through to the modern day! With Bath offering many kinds of spa getaways, and leisure pacakges, why not treat yourself even more with our limousine hire service in Bath? You can really relax and spoil yourself in our amazing Rolls Royce Phantom hire car. While not a stretched limousine, the Rolls Royce Phantom is an exquisite luxury car and is packed full of amazing high-end features. From the grade-A leather upholstery, to the entertainment features on board, and even a drinks chiller, champagne bar, and temperature-controlled cup holders, the Rolls Royce Phantom hire car is the perfect way to relax in Bath as you enjoy a lavish spa holiday. Your chauffeur can pick you up from your hotel in the city centre, and take you in comfort and style to wherever you may be having your spa treatments. Whether it's at the more modern Thermae Bath Spa (Hot Bath Street Bath BA1 1SJ) or at the original Roman Baths (39 Stall Street Bath, Bath and North East Somerset BA1 1), your personal limousine chauffeur will ensure that you have an even more stunning experience courtesy of our luxury limousine hire service in Bath! Whether you choose a Lincoln limousine, a Rolls Royce Phantom or a Bentley Arnage, the choice is your's on your relaxing holiday.
While visiting Bath, you'll certainly want to do a spot of shopping in this city's beautiful centre. Local by-laws dictate that the historic look and feel of the city must be maintained and, as such, even the most modern and well known big store names have their own unique Roman-esque style to them, giving Bath a very unique image and feel. Bath has a number of great shopping areas, with really classic-looking areas right up to modern developments. If it is a modern touch you're after during your stay, then you'll definitely want to check out the SouthGate Shopping Area (SouthGate Street, Bath, BA1 1AQ), which is the latest and most modern addition to Bath's shopping district. SouthGate features more than 50 well known brand-name outlets, including Game, Hotel Chocolat, Kurt Geiger, La Senza and New Look, so it's the perfect place if brand names are you thing. Our simply stunning Chrysler limousine in Bath hire service can help you avoid those parking nightmares by chauffeuring you in the heigh of comfort right to the centre of the SouthGate shopping area. But if you're after something a bit more unique and rustic, then you'll want to have you Bath limousine hire chauffeur head on over to Upper Town, aka. 'The Top Of Bath'. Upper Town is home to to dozens of truly unique boutiques and antique stores, providing you with a much more quaint shopping experience away from the bustle of the high street. Whatever you shopping style, be sure to match Bath city centre's amazing decor and look with our equally lavish Bath limo hire services. For small groups we have vehicles such as the illustrious Rolls Royce Phantom hire car; for those in slightly larger groups in need of a bigger vehicle for their shopping trip in Bath we also have the eight-seater Chrysler limousines and Lincoln limo hire cars; and for the biggest of groups and the biggest of shoppers we have the massive 16 seater hummer limo - available in pink, black and white.